Ferntree Gully Meeting Dates and More Information:

September 9, 23 & 30

We meet at 10.30am on the 2nd, 4th & 5th Sunday behind the Ferntree Gully Library, near the rotunda, 1010 Burwood Highway, Ferntree Gully. In inclement weather, you will find us behind the library, on the decking or under the big tree. Here is a short video made by Big Review TV to give you a feeling of what we do. I hope to see you soon!
As we lead two laughter clubs, to find out about the Knoxfield Laughter Club, which meets at 10.30am  on the 1st, 3rd and 5th Saturday, click the following link: Learn More.
The Ferntree Gully Laughter Club has been going for 13 years and it is free to attend. We practice Laughter Yoga, which is laughter exercises combined with deep breathing. People who attend regularly take the spirit of laughter with them and find their sense of humour becomes sharper, they feel great, full of joy and energised. To download the file for other laughter club locations throughout Melbourne, go to the Laughter Clubs Victoria Inc website, click here.
My husband John and I lead the Ferntree Gully Laughter Club and our experienced members also lead various laughs which become quite spontaneous. John's experience is that he becomes energised and says come if you agree that getting out of your comfort zone can be good for you. John shares: I love it. Sometimes I go there feeling flat and don't really feel like laughing and when I finish, I feel great. Yay for the transformational power of laughter!
To download a PDF file for other community laughter clubs, led by other people, click the following link: Club Locations 20 July 2018.
Member's Testimonials
I first came to the laughter club on 22nd January 2017 and love it. The people are lovely, I feel safe to be myself and leave feeling uplifted and full of joy. Although I am a naturally shy person, I am learning to overcome being shy with tools that help me, such as coming regularly to the laughter club. I always wore colours that did not draw attention and only now (March 2017) find myself dressing in more vibrant colours. People comment on how great I look in them which is very nice. I hope that my sharing will encourage shy people to come along too and see what laughter can do for them.

Debbie, Mount Dandenong

Laughter Club has helped me to realise how a little bit of madness can clear my head.  I've found spontaneous giggling comes much easier, when combined with movement (dancing or jumping around).  Genuine caring is always in abundance at events – so good for the soul. 

Susi, Upwey

I understood that laughter is "good for your health, and I did not laugh very much. So I searched the Internet and found details of the laughter clubs. I phoned Lynette, and turned up to Ferntree Gully Laughter Club one Sunday morning. I felt very welcome but also very, very uncomfortable. But the people there seemed to be enjoying themselves, and were doing a lot of laughing! So I thought. "These people obviously keep coming back! There must be something in this". I kept coming back, and will keep coming back. I have discovered that I see the funny side of things often now, and have become a much happier person. Even my friends comment on the change. I have learnt that laughing, like any skill, requires practise until it becomes habit, and what better way to practise than at the laughter club! So come along and laugh with us! There is plenty to gain, but nothing to lose! 

Lesle, Glen Waverley.
The Ferntree Gully Laughter Club is affiliated with Laughter Clubs Victoria Incorporated (LCVi)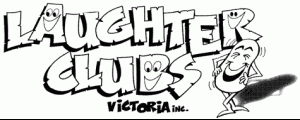 Save
Save
Save
Save