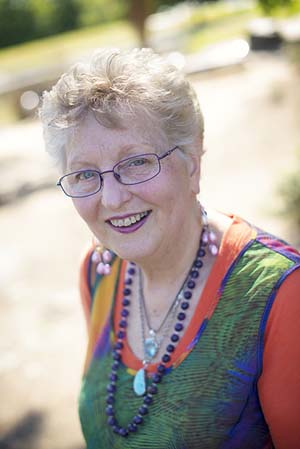 Lynette lives a rewarding life for her age and enjoys being involved with what she does. She always said that she would not retire and at times it has been a struggle, when the body slows down, wanting to put it's feet up and take a break. She is learning to be less busy and have more balance and self kindness in her life.
Her life took a positive turn when she attended a Laughter Yoga workshop with Dr Kataria, the Indian Physician who is the founder of the community laughter club movement in 2005. Straight away she trained to lead a laughter club. In 2012 she updated her training, becoming an International Laughter Yoga Teacher. In 2010 she qualified with a Diploma of Holistic Living Counselling and that year also completed a Certificate IV in Mentor and Life Coaching.
Lynette shares both Laughter Yoga and Meditation, which are both transformative in people's lives. She leads the Ferntree Gully Laughter Club and is chuffed that her husband John, is supportive and has become fully involved. Before laughter, John was introverted and would not even talk to strangers, which is the total opposite to nowadays.
John and Lynette have been married for thirty-four years and are active seniors, keeping fit walking and doing Seniors YouTube. She has done Hatha Yoga all her life and though stiffer, continues to do it several times a week. She likes to cook and be creative with drawing Zentangles.
Lynette has two mottos, which are to 'never ever give up' and 'be kind to yourself'.
Qualifications
Certified International Laughter Yoga Teacher with Dr Kataria School of Laughter Yoga
Diploma in Holistic Living Counselling
Certificate IV in Mentoring and Life Coaching
Certificate IV in Assessment and Workplace Training
Qi Gong Healing
Crystal Healing
Touch For Health
Below is a sample of Lynette's art, these have been given to family and friends, excepting the elephant, which is available for purchasing.