I have lived a full, fruitfull and busy life and feel as if my life is coming together after 78 years on this planet. I am enjoying giving back and do 'work' for money in the bank, BUT my main focus in on doing a Self Mastery Class and laughter clubs. I feel that I help hold a space for people to be in touch with themselves more and step more into their own healing space. We all need help at times and will find teachers a few steps ahead of us, as we will be a few steps ahead of others.

My life changed dramatically when I attended a Laughter Yoga workshop with Dr Kataria, the Indian Physician who is the founder of the community laughter club movement. I became involved, training and starting a laughter club. That was 15 years ago and in 2012 I updated, becoming an International Laughter Yoga Teacher. In 2010 I received a Diploma of Holistic Living Counselling with the Holistic Living Institute. I also completed a Certificate IV in Mentor and Life Coaching with the Global Coaching Academy.
I love to share laughter and have found it to be very transformative in people's lives. I work providing Laughter Yoga sessions and they usually include an energy clearing and meditation. These sessions are popular on professional development and team building days, whether it is corporate or other organisations. Break out sessions are ideal, particularly when wellness is the theme. It's the best team building tool that I know of.

I lead both the Ferntree Gully Laughter Club (Sundays) and Knoxfield Laughter Club (Saturdays) and am chuffed that my husband is also supportive and fully involved in this also. He usually drives me to professional sessions and assists in the leading. I am very lucky to have such a wonderful, kind man. I will add that before he became involved, he would not talk to strange people and now is extremely outgoing. How wonderful.
John Mitchell and I have been married for thirty-four years and we are active seniors. We walk and do YouTube exercises to stay fit and I do Hatha Yoga a few times a week, have been doing yoga since 1963. I love being creative, presently draw Zentangles. My two mottos are 'never ever give up' and 'be kind to yourself'.
Lots of love and laughter blessings to you. Lynette Mitchell xo
Qualifications
Certified International Laughter Yoga Teacher with Dr Kataria School of Laughter Yoga
Diploma in Holistic Living Counselling
Certificate IV in Mentoring and Lifecoaching
Certificate IV in Assessment and Workplace Training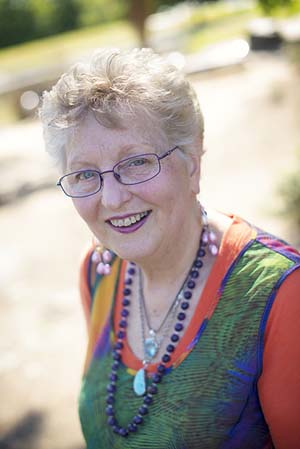 Below is a sample of Lynette's art, these have been given to family and friends, excepting the elephant, which is available for purchasing.