Laughing Together
Laughing together in person at the laughter club is one of the happiest, joyous, overflowing with gratitude time in my life these days. Laughter is uplifting, can take one out of feeling in the doldrums, our attitude changing to be filled with wonder, joy and gratitude.
We have a lot of spontaneous fun when we come together in the park. At first new people joining us may feel a little uncomfortable, as laughing out loud in public, with strangers, can be daunting to begin with. With regular practice, we have also learnt to let our reservations leave us on the Zoom calls and during lockdown, it is important to keep up the fun.
World Laughter Day
World Laughter Day is annually on the first Sunday in May. Five years ago it was at Federation Square, we were on the main stage due to the heavy rain.
I shared a laughter exercise and Faye was there, seeing me, as a being local to her. Faye found me across the crowded stage and felt drawn to join our laughter club
I wish to acknowledge Faye, as she is an amazing soul, who comes to every possible meeting. Allow me to continue and sing the praises of Faye.
Faye is quietly spoken and even so, when absent, her energy is sorely missed. She loves to contribute in the background, by baking birthday cakes for us when our special day comes around. Her essence is charming, cheerful, calm, grateful and supportive.
Faye often shares that belonging to the laughter club has been instrumental in helping her to keep going, enabling her to bring love, positivity and light-heartedness into her life, which was missing before she found us.
I am grateful for her and all the other regular members. It takes perseverance to turn up on a regular basis.
Many people have come and gone in the sixteen years that I have been running the club, after I met the Founder, Dr Madan Kataria and then did the necessary training.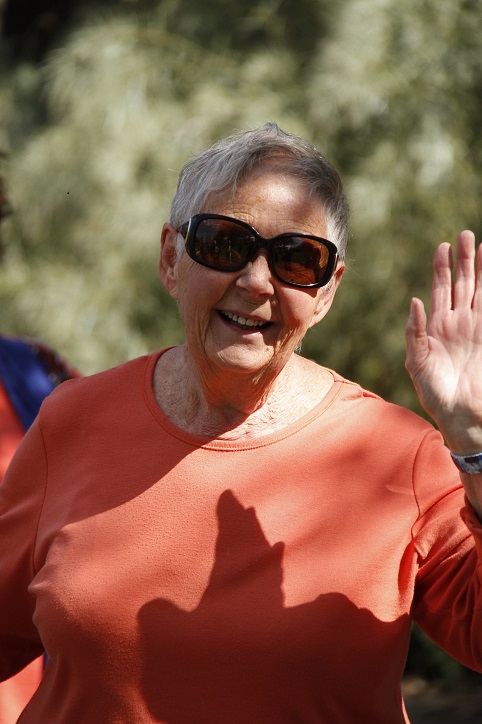 Turning Point in Lynette's Life
The day I met Dr Kataria was a turning point in my life and I was on a high, feeling uplifted and impressed by the vibrant energy in the room. Straight away I trained to lead a community laughter club, which has since been an important focus in my life.
The laughter club has in the last few years brought my husband, John, out of his shell. He has become a very bright spark to be around, as opposed to beforehand when he was an introvert and would not dream of speaking to a stranger. Nowadays he speaks to anybody, comfortably, without shame or embarrassment.
Which brings me to the blog subject, 'Gratitude and Joy are like Our Left and Right Hand Working Together'. Gratitude and Joy go hand in hand and cannot be separated.
Every day brings new opportunities to feel Gratitude and I firmly believe that it is important to fill yourself up with being grateful. Being grateful leads to spontaneously bring joy into our lives.
With Gratitude and Joy, we align ourselves to the abundant flow of the Universe. Those who resonate with this, will 'get it'. A magic can easily re-enter our lives, you know when things happen unexpectedly and spontaneously. Things flow, coming together in surprising ways, happenstances occurring.
Reading this, if you feel inspired to bring more gratitude and joy into your life, there are resources that I may share with you. You can request an Attitude of Gratitude, one on Manifestation, or Creative Visualisation. To arrange a time to go over it, message, phone or email me and after it is shared, it would then be sent to you.
Gratitude – Not Victim-ness
Raising our awareness to recognise the innumerable, seemingly small, everyday things in our lives. Such as the blue sky, our warm house, a cup of tea, even fresh bread and butter. These things can go by unnoticed, insignificant and yet provide us with joy, solace, many things, which can be easily overlooked, rather than us feeling grateful for them. Gratitude, Laughter and Joy live seamlessly together and are all essential in our everyday lives. Would you agree with that statement?
Gratitude does not have to be big, start noticing everyday things to practice looking around you and appreciating things in your life, big or small. It's a great practice to be in the habit of doing. And remember, joy and gratitude co-exist, you can't have one without the other.
Consider yourself invited to attend the free community laughter club. Click here to go to the laughter club page.
Thank you for your interest and we trust that you gained something from reading the blog.
Lots of love, joy and laughter. Lynette.
Gratitude for photo by Brigitte Tohm on Unsplash