What does the word stress bring up for you? Very likely it will be negative because the media influences us that stress is 'bad' and we are directed to find relief from it with buying, eating, drinking, holidaying etc. Many people are so accustomed to living in a stressful manner and may not realise that there are ways to combat it. It can be that when we our time is restricted, it is beneficial to feel under pressure and we can achieve that without sending our bodies into a stressed mode. In fact it can be uplifting and energising, rather like self-testing or facing a challenge. Laughter and other things like mindfulness and meditation can help a lot, here's my take on incorporating Laughter Yoga into your daily routine – Read More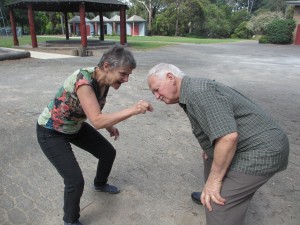 John Mitchell and Vicki sharing a favorite laugh, a tiny space between thumb
and finger indicating that little limitation
and next the arms go wide showing how much potential.